Dining facilities in the Hotel Oberstdorf in the heart of the Alps
In the Alpine restaurant, each morning will begin with an opulent breakfast buffet. In the afternoons guests can enjoy a delicious Allgäu farmers' buffet & in the evening indulge in a gourmet buffet.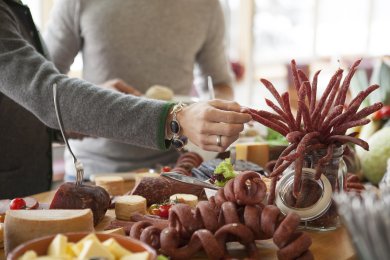 Culinary pleasure the whole day!
You are spoiled for choice with more than just the rich selection of our buffets, which we serve in the mornings, afternoons and evenings. If you would like to, you can also decide every day where you want to be pampered by us.
The Alpine restaurant in the Hotel Oberstdorf consists of four completely differently designed areas - from comfortable and rustic to modern and elegant. When the weather is nice, you can of course also take a seat on our terrace with a wonderful panoramic view.
Breakfast to fall in love with
Every day is Sunday here. Because at our breakfast buffet you have a wide selection of bread, jams, sausages and cheese. There is a front cooking area for egg dishes, fresh fruit for yoghurt with cereals, cakes and numerous hot drinks. Take whatever you wish and enjoy a delicious and healthy breakfast.
Luxury board - first class cuisine!
First-class cuisine is part of a successful holiday. Enjoy exceptional gourmet buffets with different themes every evening. You can expect variations of high-quality meat, fish, vegetarian and vital dishes as well as salad specialties, a large cheese selection and magical desserts. If you opt for the luxury board, the Allgäu farmer's buffet with many delicacies is also available for you in the afternoon between 3.30pm and 5.00pm.
Your feel good week
Experience four days of relaxation and culinary gourmet moments for a break from everyday life and immerse yourself in the Allgäu mountains.
7 nights in a double room
luxury board
wellness buffet
daily usage of 150 m² Alpine Wellness World
Discover a relaxing or sportive holiday at Hotel Oberstdorf and enjoy 8 days full of comfort and gourmet moments.
Angebot
7 nights inlusive luxury board
Cosy fireplace, an exklusive bar which serves individually and selfmade cocktails and a traditional rustic Alpe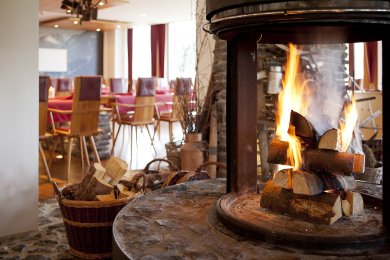 Fireplace and bar
Our fireplace bar with a lounge is open daily from 7am to midnight. Whether you want a quiet place to read, play a board game with the kids, drink a coffee or a cold beer, or have a snack. The motto here is "you don't have to do anything, you can do everything". From 12 to 10pm, our kitchen staff will be happy to prepare small delicacies from the à la carte menu. Relax and unwind! There are more than 100 different whiskeys in the bar and a whiskey tasting once a week.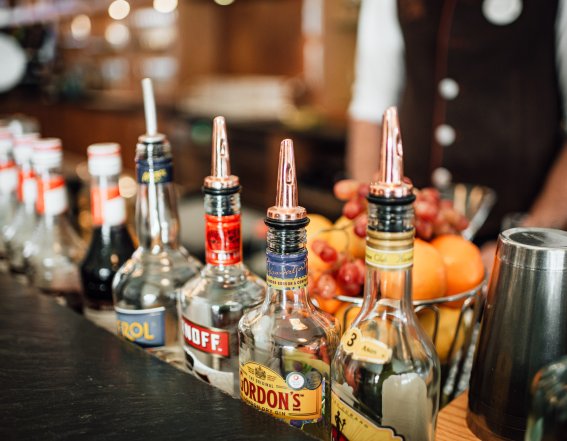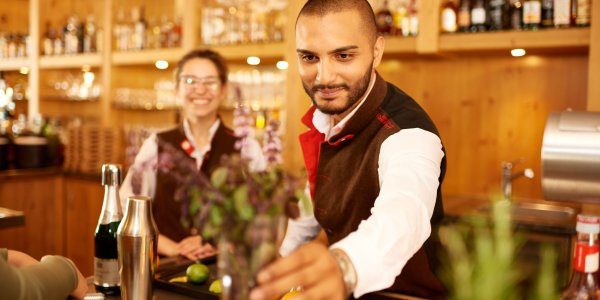 Rührtails
Anyone can do cocktails ;). That's why our bar staff along with manager Steffen Peres have created delicious Rührtails (stirred cocktails) with fresh herbs. Surprise yourself – and enjoy, either with alcohol or without.
Your feelgood week at Hotel Oberstdorf